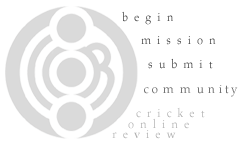 ..:: CONTENTS ::..

Volume VI, Issue II

..:: POETRY ::..
..:: PROSE ::..
..:: ETC ::..
Contributor's Notes

..:: ARCHIVES ::..
Volume I, Issue I
Volume I, Issue II
Volume II, Issue I
Volume II, Issue II
Volume III, Issue I
Volume III, Issue II
Volume IV, Issue I

Volume IV, Issue II
Volume V, Issue I

Volume V, Issue II

Volume VI, Issue I


Danielle and Birds
Benjamin Nucum
I.
Danielle fears birds terrify Elle
is her a bird eerrr birds a
terror an terror a duck is
not a bird. No duck is a
bird Elle likes ducks birds
terrify danielle is her near
birds or bird wha Elle
we wha Elle closes birds not
a duck I love near birds
and danielle Elle is missing
terrifies me her an her
were birds missing a duck
disappears.
II.
danielle disappears missing Elle
body body danielle disappears
to disappear misses like I miss
God comes and goes danielle
said God or Lord elle disappears
body body takes God.
// Advance //