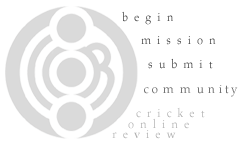 ..:: CONTENTS ::..

Volume VI, Issue II

..:: POETRY ::..
..:: PROSE ::..
..:: ETC ::..
Contributor's Notes

..:: ARCHIVES ::..
Volume I, Issue I
Volume I, Issue II
Volume II, Issue I
Volume II, Issue II
Volume III, Issue I
Volume III, Issue II
Volume IV, Issue I

Volume IV, Issue II
Volume V, Issue I

Volume V, Issue II

Volume VI, Issue I


Zero's Bride
Kristine Ong Muslim
She wails to be let in like a broken finger.
An outburst of numerical jealousy.
Five opens the door, and she inches
closer, all froth and semi-nothingness.
Golden now, the other numbers say, let us break
our toys. She exhales with the finality
of a one-digit integer between 1 and 9,
all that she's allowed to do in the
boundary between one and nothing,
and joins the party.
// Advance //