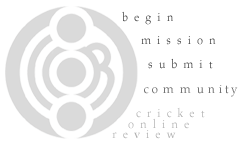 ..:: CONTENTS ::..

Volume IX, Issue I

..:: POETRY ::..
..:: PROSE ::..
..:: OTHER ::..
..:: ETC ::..
Contributor's Notes

..:: ARCHIVES ::..
Volume I, Issue I
Volume I, Issue II
Volume II, Issue I
Volume II, Issue II
Volume III, Issue I
Volume III, Issue II
Volume IV, Issue I

Volume IV, Issue II
Volume V, Issue I

Volume V, Issue II

Volume VI, Issue I
Volume VI, Issue II
Volume VII, Issue I
Volume VII, Issue II
Volume VIII, Issue I



Transfer
Samantha Duncan
A safety upgrade on
the nuclear reactor plant
inspired me to consume
five ink cartridges so
confessions escaped my ports.
Instead, parables flew
everywhere. It was a bad
idea in multiple outfits,
a riot outfitted with long
vocal range that shortened
history books, none of
which put me in the clear.

Maybe patents start as
infants to contribute,
helpless as the inkling
of weather between skull
and brain flap, stirring
languid hours and counting
Wednesdays into a bowl.
I sent my coat rack to therapy
for its antisocial behavior.
In two weeks, it wore
a new mink, and I boxed
my husband in a
Tupperware container.
The florid heat of summer
lay dormant and distant
on my computer screen.
// Advance //