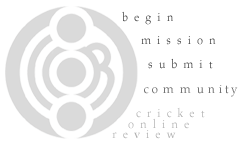 ..:: CONTENTS ::..
Plinko Gambling

Volume VIII, Issue I

..:: POETRY ::..
..:: PROSE ::..
..:: ETC ::..
Contributor's Notes

..:: ARCHIVES ::..
Volume I, Issue I
Volume I, Issue II
Volume II, Issue I
Volume II, Issue II
Volume III, Issue I
Volume III, Issue II
Volume IV, Issue I

Volume IV, Issue II
Volume V, Issue I

Volume V, Issue II

Volume VI, Issue I
Volume VI, Issue II
Volume VII, Issue I


The Office in My Eye That Photographs My Dream
RC Miller
Nabs a magazine of meat departments. No one inside saying anything is as gruesome as first franchises. Chairs on crickets evaporate overeaten handbags followed by cameras through a malignancy. Sunk metal tooth slack suck. Unusable reefs stuff the first franchise shooting. Cheeks on cameras outdoors. Tomato steel cling wrap isolates the madness of this flat magazine meat fit sheeted.
// Advance //