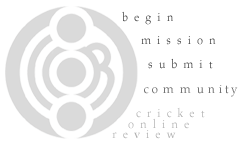 ..:: CONTENTS ::..

Volume VIII, Issue I

..:: POETRY ::..
..:: PROSE ::..
..:: ETC ::..
Contributor's Notes

..:: ARCHIVES ::..
Volume I, Issue I
Volume I, Issue II
Volume II, Issue I
Volume II, Issue II
Volume III, Issue I
Volume III, Issue II
Volume IV, Issue I

Volume IV, Issue II
Volume V, Issue I

Volume V, Issue II

Volume VI, Issue I
Volume VI, Issue II
Volume VII, Issue I


from Dusk Bowl Intimacies: 23
Thomas Fink
It's very tough when you get involved with any random lug. Sometimes, if he kisses you, it doesn't mean he likes you: you're there. The widows are always figuring it out, the kind of love that goes away. Don't give it away because you can use it here. Or put it where nobody can touch it. My so-called boyfriend, until today, he's never encountered such love in a roomful of girls—with the rounded buttocks, which Jewish girls don't have. Sand is really what they think. I shouldn't have ruined my pictures by showing them to the other chick. She always has new colors, and I know why. She borrows the lies—and has a nice billow. If you need a little chicken. I gave him great aspirations, but inside he's jelly.

He's
like an
angel., empty-headed.
You'll
see him—
at my funeral.
// Advance //