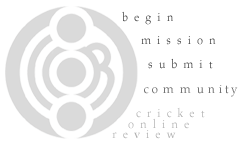 ..:: CONTENTS ::..

Volume VIII, Issue II

..:: POETRY ::..
..:: PROSE ::..
..:: ETC ::..
Contributor's Notes

..:: ARCHIVES ::..
Volume I, Issue I
Volume I, Issue II
Volume II, Issue I
Volume II, Issue II
Volume III, Issue I
Volume III, Issue II
Volume IV, Issue I

Volume IV, Issue II
Volume V, Issue I

Volume V, Issue II

Volume VI, Issue I
Volume VI, Issue II
Volume VII, Issue I
Volume VII, Issue II
Volume VIII, Issue I



Oaovelrd
Spencer Selby
Like bacrnh cntoenncig pletnas in dilay lfie, teid of brids
miinagrtg, ocnaes of fish rnineutrg, with six trliloin roeintcas
eervy soencd to mtoinor the mnmeoevt of satrs, play tmrpuet
wuthoit kniwnog how, snig a snog to riase asanwrees diunrg a
nhgit of ftiufl slepe. At smoe pinot ehvnriteyg is sneseudpd in a
sttae of flororn bliss. Scturk by awe beonyd the egde of
scape/tiem crvnuig bcak wthiin iltesf, dasknres raelesed
wapones to eforcne rsneoas for bineg aivle. Spsuect on taht day
claeld to tiral of ililousn. Bvehioar ridledd with gliut taht sakeps
of eegrny and iiooafrtmnn in a ciuuors vien. Waev and prtcilae,
cell and muoellce, ssameles miratx, msisave ctuuoinnm of
secucss and falriue, watleh and peovrty, lkeocd in a sutrlgge for
atoitnetn taht is aslo snrdureer to a lost or hddein lvoe.
// Advance //