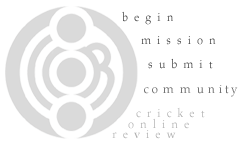 ..:: CONTENTS ::..

Volume VII, Issue I

..:: POETRY ::..
..:: PROSE ::..
..:: ETC ::..
Contributor's Notes

..:: ARCHIVES ::..
Volume I, Issue I
Volume I, Issue II
Volume II, Issue I
Volume II, Issue II
Volume III, Issue I
Volume III, Issue II
Volume IV, Issue I

Volume IV, Issue II
Volume V, Issue I

Volume V, Issue II

Volume VI, Issue I
Volume VI, Issue II


To infinity and beyond
Steve Castro
"I'm probably in the sky flying with the fishes or maybe in the ocean swimming with the pigeons; see my world is different"
—The sky is the limit, Dwayne Michael "Lil Wayne" Carter Jr. (b. 1982)

He told me that the sky is the limit and I told him that he shouldn't think so small and that he shouldn't limit himself to just the sky. He then told me that I shouldn't be so greedy and that the sky had always been the limit and that I shouldn't disrupt the order of our galaxy. I then told him that the Milky Way couldn't contain me and he wanted to know then why I was still living with my parents and then I told him because my parents are the only ones willing to help me finish my space ship.
// Advance //