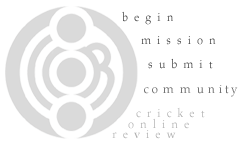 ..:: CONTENTS ::..

Volume VII, Issue I

..:: POETRY ::..
..:: PROSE ::..
..:: ETC ::..
Contributor's Notes

..:: ARCHIVES ::..
Volume I, Issue I
Volume I, Issue II
Volume II, Issue I
Volume II, Issue II
Volume III, Issue I
Volume III, Issue II
Volume IV, Issue I

Volume IV, Issue II
Volume V, Issue I

Volume V, Issue II

Volume VI, Issue I
Volume VI, Issue II


Raghuvaran Redux
Ranjani Murali
I know you iced my birthday cake with theorems
of converse roots. The prime power
of the nth cube root left a trail of decimals all
over the white tablecloth mother gifted us
for harvest Friday. The obtuse angle rolled
into my cuticle-powder case—such a rigorous
study of double radii, indeed—and filigreed
incomparable results on all my nails. They're
lucent now, like your masala omelets, like
our albino college-mate who studied trigonometric
postulates at the Madras Café every day
while really—I knew—mapping the coordinates
of our sugar-scooping axes. What a pity
that young lovers (such as us or the Armenian
churchgoer couple) ignored her notes;
I know now that they were filled with brackets
of deep parabolic stains, cancelled binaries and a quadratic
formula for every pastry-frosting we sampled.
// Advance //