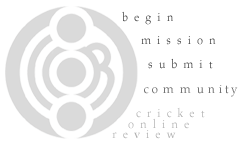 ..:: CONTENTS ::..
Plinko Gambling

Volume VII, Issue I

..:: POETRY ::..
..:: PROSE ::..
..:: ETC ::..
Contributor's Notes

..:: ARCHIVES ::..
Volume I, Issue I
Volume I, Issue II
Volume II, Issue I
Volume II, Issue II
Volume III, Issue I
Volume III, Issue II
Volume IV, Issue I

Volume IV, Issue II
Volume V, Issue I

Volume V, Issue II

Volume VI, Issue I
Volume VI, Issue II


Sailing Alone Around the World
Howie Good
A big policeman was pissing off the dock. Ancient women sitting in windows facing the street squeezed their sad, tired tits at me. I had sailed through a fog, though others said it was poison gas, the blindness of a despised regime. The fort at the entrance to Thieves' Bay fired the sunset gun. Something cried that had no name.
// Advance //