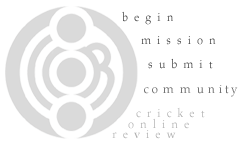 ..:: CONTENTS ::..

Volume X, Issue II

..:: POETRY ::..

..:: PROSE ::..
..:: OTHER ::.. Chad Lietz Marilyn R. Rosenberg Nick Romeo philip miletic
..:: ETC ::..
Contributor's Notes

..:: ARCHIVES ::..
Volume I, Issue I
Volume I, Issue II
Volume II, Issue I
Volume II, Issue II
Volume III, Issue I
Volume III, Issue II
Volume IV, Issue I

Volume IV, Issue II
Volume V, Issue I

Volume V, Issue II

Volume VI, Issue I
Volume VI, Issue II
Volume VII, Issue I
Volume VII, Issue II
Volume VIII, Issue I

Volume VIII, Issue II

Volume IX, Issue I

Volume IX, Issue II

Volume X, Issue I



The Soprano Pipistrelle
Mark Young
The spin-forbidden
processes made him
tongue tied; but then
the circus closed &
things came quickly
to a climax. "Spare me
these empty arguments"
he shouted out in the
myriad languages he
knew. "Show me
the harm, show
me the pain, show
me a better way
to kill a chicken."
// Advance //