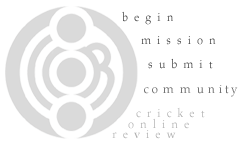 ..:: CONTENTS ::..
Volume V, Issue II

..:: POETRY ::..
..:: PROSE ::..
..:: OTHER ::..
..:: ETC ::..
Contributor's Notes

..:: ARCHIVES ::..
Volume I, Issue I
Volume I, Issue II
Volume II, Issue I
Volume II, Issue II
Volume III, Issue I
Volume III, Issue II
Volume IV, Issue I

Volume IV, Issue II
Volume V, Issue I


Without Concern
Joseph Goosey
As cherries bleed at the hands of a nickel wire,
I admit that I did.
I wanted to see the deconstruction take place
in half an August afternoon.
I wanted to choreograph little girls
undulating around the fire.
(Nothing is illegal if you die in the process.)
In the blotted part of my brain I constructed
a simultaneous burning of the capitols.
She meant so little to me that I walked around
tasting chlorine all of the time,
even when talking to the swans as they shit
on the University lake.
I wanted to go somewhere with fog
and went backwards rapidly and without concern.
On the way I remembered diamonds in storage.
I discovered new paintings,
originals that had been left in the pantry.
I asked them where they had been
and they said on bar stools,
they said on rocking chairs.
I sang and I danced and fell, breaking shoulder finding
heart blood and hair.
// Advance //