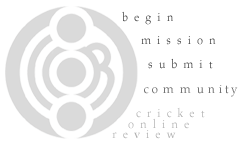 ..:: CONTENTS ::..
Volume V, Issue II

..:: POETRY ::..
..:: PROSE ::..
..:: OTHER ::..
..:: ETC ::..
Contributor's Notes

..:: ARCHIVES ::..
Volume I, Issue I
Volume I, Issue II
Volume II, Issue I
Volume II, Issue II
Volume III, Issue I
Volume III, Issue II
Volume IV, Issue I

Volume IV, Issue II
Volume V, Issue I


Two Brothers Buy Plane Tickets to Paris and I Cower Under the Aluminum Siding
Joseph Goosey
Anything tangible is similar to jello.
You can fuck it,
place it between your fingers
while thinking of taxidermy and
then stumble under an approved humidity.
We are changing the structure today.
Remember,
you wouldn't touch either of my cats?
You dumb lime drowning
in a (I won't even say.)
We should unplug all importance from the outlet.
We should head to shelter,
the reminiscence stinks
of seaweed and monitor shit.
You know,
the lizard behind glass,
waiting
for a bit of hair to eat.
// Advance //