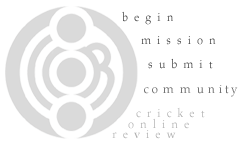 ..:: CONTENTS ::..
Volume V, Issue II

..:: POETRY ::..
..:: PROSE ::..
..:: OTHER ::..
..:: ETC ::..
Contributor's Notes

..:: ARCHIVES ::..
Volume I, Issue I
Volume I, Issue II
Volume II, Issue I
Volume II, Issue II
Volume III, Issue I
Volume III, Issue II
Volume IV, Issue I

Volume IV, Issue II
Volume V, Issue I


Ancient Amputations Antique Amps
Lynn Strongin
She was four weeks without an arm before you noticed:
The stump would have been still weeping
these are the doll people & this is doll:
Does recovery exist?
The roses need pomade & powder
Their cheek rouge
Has faded.
A stalling storm front glosses like high gloss the last part of morning.
A cost-recovery report is a valid reason to delay a love note
I do not burn my candle at both ends
The doll in the bathroom is fine without her right arm the cleavage clean
To go with ancient maps
Glue-cracked
Enduring with more patina
Which nearly makes a music yes it sings
While the stalled storm front picks up moves on
One doll looks round the nursery, restless' Let's play tag"
"No not safe," mama Doll cries from the staircase landing.
She lands tongues stuck out.
"Act!" there is a huge eyeball staring in the dollhouse window
nobody ever died of boredom it says
but chylde flops on her bed again thinking Maman I dare not ask you the question:
where does Brazil leave off, cobalt horses churn? Jade green water begin?
// Advance //