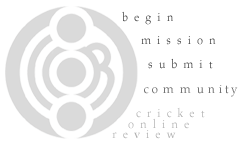 ..:: CONTENTS ::..
Volume VI, Issue I

..:: POETRY ::..
..:: PROSE ::..
..:: OTHER ::..
..:: ETC ::..
Contributor's Notes

..:: ARCHIVES ::..
Volume I, Issue I
Volume I, Issue II
Volume II, Issue I
Volume II, Issue II
Volume III, Issue I
Volume III, Issue II
Volume IV, Issue I

Volume IV, Issue II
Volume V, Issue I

Volume V, Issue II


in the squall we met on the esplanade
Billy Cancel
What's the difference
between tired light & irregular drift a-b-a?
star noise
in analogue how many stockfish
does it take to change a light cold?
another
wrong number it went on & On
tuesday we raised a glass
to the old country by friday
we were toasting black damp.
// Advance //