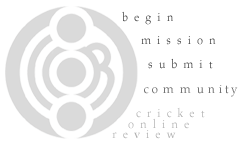 ..:: CONTENTS ::..
Volume VI, Issue I

..:: POETRY ::..
..:: PROSE ::..
..:: OTHER ::..
..:: ETC ::..
Contributor's Notes

..:: ARCHIVES ::..
Volume I, Issue I
Volume I, Issue II
Volume II, Issue I
Volume II, Issue II
Volume III, Issue I
Volume III, Issue II
Volume IV, Issue I

Volume IV, Issue II
Volume V, Issue I

Volume V, Issue II


from Systems: IV
Sophie Sills
In every atom are a hundred blazing suns. —Mahmud Shabistari
The impulse of the universe to bring like and like together happens everyday. Particles
distend. Streaming from my chest, fingers full of fish. The sound is a shape of birds
emerging from the city. Their unknitting makes passages closing behind them. And no
end in the pinch between land and dark. A lattice of ropes, veranda, a handful of hair
strands. Each separate as whole. Hippocrates said all things are in sympathy. A million
edges and eyes enfold in a dark city. As they do, I open a window to the city, to the smell
of a strange lake. I am without individual existence. Knowing and fear have the same
form as bird and fish. Animal to flight is woven together with the smell of water and cold
happening over a lake. Weeping with fists of fish is only one pattern. The objects are
solid and moving beneath.
// Advance //