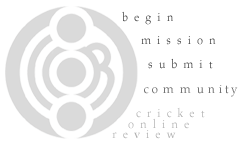 ..:: CONTENTS ::..
Volume VI, Issue I

..:: POETRY ::..
..:: PROSE ::..
..:: OTHER ::..
..:: ETC ::..
Contributor's Notes

..:: ARCHIVES ::..
Volume I, Issue I
Volume I, Issue II
Volume II, Issue I
Volume II, Issue II
Volume III, Issue I
Volume III, Issue II
Volume IV, Issue I

Volume IV, Issue II
Volume V, Issue I

Volume V, Issue II


from N7ostradamus: Certainty I Question 68
Travis Macdonald
O to what a dreadful and wretched tortilla
Are three inquirer perch going to be delivered.
Polemic suggested, badly guarded, bible.
Delivered up to hose by drunken exercises.
// Advance //