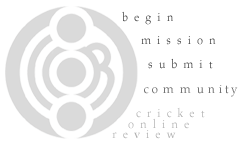 ..:: CONTENTS ::..
Volume VI, Issue I

..:: POETRY ::..
..:: PROSE ::..
..:: OTHER ::..
..:: ETC ::..
Contributor's Notes

..:: ARCHIVES ::..
Volume I, Issue I
Volume I, Issue II
Volume II, Issue I
Volume II, Issue II
Volume III, Issue I
Volume III, Issue II
Volume IV, Issue I

Volume IV, Issue II
Volume V, Issue I

Volume V, Issue II


from Systems: V
Sophie Sills
The wholeness that we're missing comes from our language, the structure of our
fragmentation is in thought. It makes sense that we think of things as inherently divided.
Particles move and interpenetrate, language is just a dimension of the double binds that
cannot be concluded. I came into a dark room at a late hour where the cantilevers were
our limbs. All salt and body and silent combination. My self from my body made a
strange design. I'm feverish. When what we think of is what happens. The double bind is
actually a material process. A grasping of the insides of things. Open the flesh, an
unmade mouth is not the thing itself, but particles, one part of reality knowing another.
// Advance //